God's Wisdom for Wealth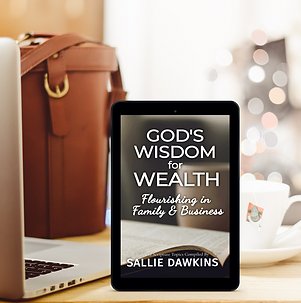 Do you long to prosper and succeed in life?

A few years ago, I felt the Lord leading me to start a business. It was an unfamiliar process and a tremendous learning experience.

Although I had already started my healing journey with God and was experiencing supernatural freedom from several major health issues, I still wrestled with my identity as His beloved daughter. Even after two decades of being a Christian, my relationship with God was distant. I struggled with feeling unworthy of His forgiveness and love. This led to striving to earn that which He freely provides. I judged myself harshly. I didn't yet understand the power of words. Until we learn to take every thought captive to the obedience of Christ (2 Corinthians 10:5), our words will betray us.

Death and life are in the power of the tongue; those who love it will eat its fruit. (Proverbs 18:21)

My investments of time and resources didn't bear good fruit. My own words kept cutting down that which I was attempting to grow. I attempted to do on my own, something that God never intended for any of His children to navigate alone. The Lord establishes the works of our hands for His eternal purposes (Deuteronomy 2:7). He desires to be LORD over every aspect of our lives as we're co-laboring with Him.
I am the vine. You are the branches. He who remains in me and I in him bears much fruit, for apart from me you can do nothing. (John 15:5)
These are basic Kingdom principles. With a grateful heart, besides walking in a greater measure of healing, I now have a better grasp of my identity in Christ. Aligning my thoughts, words, and actions with God's Word was the beginning of wisdom. It's a process I'm still maturing into. I'm now learning to partner with God in every aspect of business.

God's Wisdom for Wealth: Flourishing in Family and Business is a compilation of scriptures created especially for Christians desiring wisdom for leadership and wealth in work, business, or family. These scriptures will also teach you how to be an exemplary employee, employer, servant-leader, Kingdom Ambassador, son, or member of the Body of Christ. You'll find over 800 scriptures indexed in over 100 categories related to prosperity, provision, stewardship of resources, rest, wisdom, and wealth.

You don't have to be perfect to pursue God or your dreams. We're children of God, growing into the fullness of spiritual maturity. We're learning how to think, speak, and act according to Heaven's culture, and it's God Himself who teaches us through the Holy Spirit and His Word (Nehemiah 9:20, John 14:26, 2 Timothy 3:16, 1 John 2:27). When we prosper, we honor the KING of Kings.
This book comprises three distinct sections designed to make it easy for you to notate relevant verses in your own bible. The first section includes Old Testament scriptures. The second section includes New Testament scriptures. You'll find all scripture references listed according to their order within the Bible. The last section of this book includes an alphabetical list of scripture topics.

I would encourage readers to spend time with God. Read each scripture for yourself. Use this book of scriptures side-by-side with your favorite Bible. The subtle difference in wording between translations is often very eye-opening.

Review the context of the text from the surrounding scriptures. Ponder or meditate on how God's Word applies to your life. Our LORD God is loving, generous, merciful, and faithful. He keeps His covenant to a thousand generations with those who love him and keep his commandments (Deuteronomy 7:9). Invite God to grant wisdom for understanding the fullness of the promises of His Word for all your generations. Perhaps in the process, you'll recover the value of serving others with joy to expand God's Kingdom of Love on earth. After all, true wealth is about people, not money.