Loose Lips Sink Ships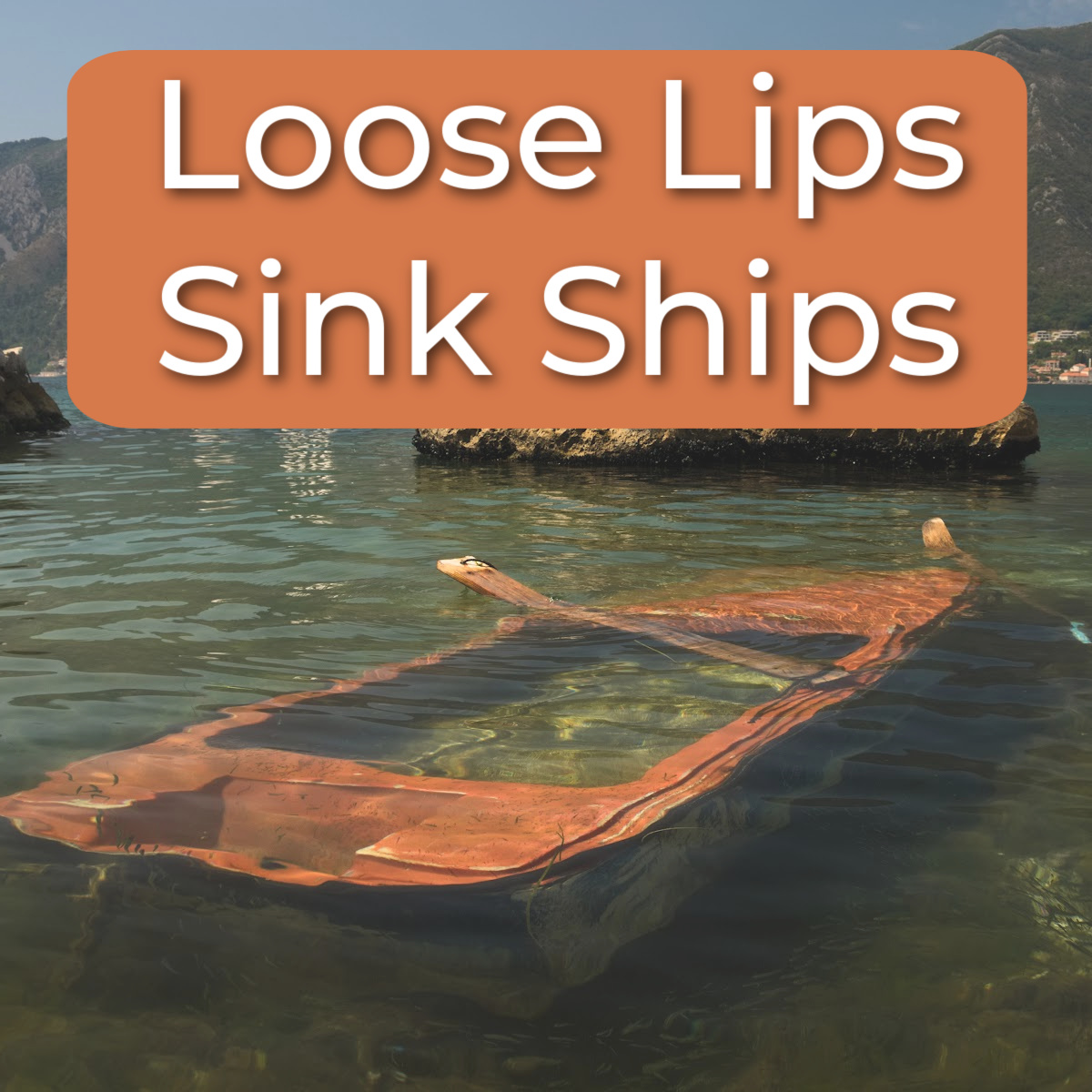 In "You Can Know the Heart of God for Your Life," I shared a testimony of correction regarding my words. I hate to admit I was already in my 50s before I started grasping the significance of the taming of the tongue. Our words are powerful declarations that come with long-term consequences.

I'm discovering this is an ongoing, multi-faceted lesson I'm still learning. Often, we're simply repeating things we've heard in our homes, schools, businesses, news channels, or culture. We don't give it much thought or consideration. Still, our children learn by our example, and we pass our negative behaviors to future generations.

Satan and his minions don't wait until we've reached adulthood before they attack. Childhood abuse, trauma, and harm comes with big emotions. Without loving validation or the proper guidance on how to process these emotions, children may choose to stuff their feelings down to "keep the peace" or end up exploding in anger and rebellion. What we're unable to process as children follows us into adulthood.

Wounds from abuse, harm, rejection, accusation, and betrayal often manifest in prickly personalities, fear, finger-pointing, slander, self-pity, whining, complaining, hopelessness and helplessness. Too often, we're unaware of how our unprocessed, unhealed wounds bleed out on everyone around us. We can judge wrongly and cut others down to lift ourselves up. This is a form of bullying, and it's prideful, dishonoring, and slanderous. When this happens, we have partnered with the enemy of our soul.
Unfortunately, these same wounds shape our thoughts and speech, keeping friends and family at a distance. When others attempt to correct, it's often filtered as another rejection rather than love. As we mature, it's easier to look back over the seasons of our lives to see just how far we've come. I now see clearly how words of strife and division were perpetuated in my family line. God challenged me to create and sustain an atmosphere of worship, praise, and peace in the place where I had caused the most significant destruction- my home. And a few years later, when He invited me to sell my house, He taught me that this atmosphere of peace moves with me because my body is His tabernacle. I am the dwelling place of His presence.

I introduced the Jewish concept of "Lashon Hara" (evil speech or evil tongue) in Book 2 of The Awakening Christian Series. Lashon Hara is seeing things in a negative light and responding with negative words or declarations. A friend recently expanded my understanding of this concept. She clarified, "Your words assign an entity to do the very thing you have spoken- positive or negative, angelic or demonic." Re-read that statement until its weight penetrates every fiber of your being.

I've just started reading Nate Johnston's newest book, "The Wild Ones: The Pioneer Call of Emerging Voices from the Wilderness to the Frontlines." It's a prophetic survival guide written to encourage pioneers and forerunners. I'm drinking his words in slowly to allow God to purify my heart.

In Chapter 20, "Witchcraft, Warfare, & Character Refining," Nate's shared insights are powerful.
"I have had witches curse me and unbelievers say nasty things to me, but it has never been worse than the warfare that comes from Christians operating in witchcraft. Prophets can be the biggest offenders at this! I'll never forget a few years ago where I was feeling off, Christy and I were fighting endlessly for days, kids were waking up with nightmares, I was feeling sick…our home was in chaos. We kept having doors suddenly shut in our faces… and roadblocks appeared in our path. So, I was making coffee one morning when I saw a clear vision of two prophetic leaders I knew sitting at a café gossiping about us and judging our hearts in a very hurtful way. Then I saw them messaging other leaders in the Church and warning them about us simply out of that territorial and insecure spirit. After I had the vision, I prayed because I was thinking, Was that real?"

"God was showing me the origin of the witchcraft so I could pray and break it in the spirit."

"Anytime you are coming into something new, it's not unusual to suddenly sense that there are things swirling in the atmosphere around you. The enemy will find whomever he can to speak against you, judge you, and even prophesy things against you that didn't originate in God's heart."

"Your best defense is to break off and cancel their words, bless them, then move on."

"The assignment of witchcraft comes to bring confusion, delay, creative block, red tape, and abortion of your mission and what you are birthing. It also comes to attack your identity, worth, and what God says about you. It comes to close doors and opportunities."
"Strife and division are fruit of witchcraft, so we treat them the same way."

So, what do we do when these attacks come at us? Thankfully, Nate also includes basic tactics for living offensively. He suggests:
"Put on the armor of God.
Pray in the Spirit.
Keep your heart right with the Lord.
Don't have anything in common with the enemy.
Stay away from bitterness and unforgiveness.
Forgive often and keep your heart healthy.
Take stock of what you are letting feed you, what you are letting in and listening to.
Be wary of those who have access to your heart and information about your inner workings of your life."

"When you discern witchcraft, attack right away by not engaging in talking bad against people. Bless them and release them. But rebuke the words. Take communion and guard your home. Flood it out with worship and get your head in a good place. Sometimes, you must fight/press in for peace."

I encourage believers to make wise choices. Stop the cycle of orphan thinking that resists and rebels against God and speaks against His Body. Listen to the words you're repeating. Are your words biting and critical? Our words will bless or curse, and whatever we're speaking to others comes back to us, so it's important to seek godly counsel for ongoing inner healing. If you're a prophetic voice or intercessor busy gossiping and judging, STOP.

As I was reading this chapter from "The Wild Ones," I heard the Lord say, "Loose lips sink ships." Therefore, I invite all Believers to use caution in their sharing. We don't have to share everything God speaks to us, and we can intentionally ask Him if it's okay to share. And stop justifying gossip in the name of "making a prayer request." Learn to walk in the authority of Jesus to declare the opposite spirit over your situation.

I covered these basic concepts of spiritual maturity in The Awakening Christian Series. It's time for the Body of Christ to wake up and grow up.

What does God say about this?
You offspring of vipers, how can you, being evil, speak good things? For out of the abundance of the heart, the mouth speaks. The good man out of his good treasure brings out good things, and the evil man out of his evil treasure brings out evil things. I tell you that every idle word that men speak, they will give account of it in the day of judgment. For by your words you will be justified, and by your words you will be condemned. (Matthew 12:34-37 WEB)

If it is possible, as much as it is up to you, be at peace with all men. (Romans 12:18 WEB)
If your brother sins against you, go, show him his fault between you and him alone. If he listens to you, you have gained back your brother. (Matthew 18:15 WEB)

Therefore, whatever you desire for men to do to you, you shall also do to them; for this is the law and the prophets. (Matthew 7:12 WEB)

If I speak with the languages of men and of angels, but don't have love, I have become sounding brass, or a clanging cymbal. If I have the gift of prophecy, and know all mysteries and all knowledge; and if I have all faith, so as to remove mountains, but don't have love, I am nothing. If I give away all my goods to feed the poor, and if I give my body to be burned, but don't have love, it profits me nothing. Love is patient and is kind. Love doesn't envy. Love doesn't brag, is not proud, doesn't behave itself inappropriately, doesn't seek its own way, is not provoked, takes no account of evil; doesn't rejoice in unrighteousness, but rejoices with the truth; bears all things, believes all things, hopes all things, and endures all things. Love never fails. But where there are prophecies, they will be done away with. Where there are various languages, they will cease. Where there is knowledge, it will be done away with. For we know in part and we prophesy in part; but when that which is complete has come, then that which is partial will be done away with. When I was a child, I spoke as a child, I felt as a child, I thought as a child. Now that I have become a man, I have put away childish things. For now we see in a mirror, dimly, but then face to face. Now I know in part, but then I will know fully, even as I was also fully known. But now faith, hope, and love remain—these three. The greatest of these is love. (1 Corinthians 13:1-13 WEB)

By this everyone will know that you are my disciples, if you have love for one another. (John 13:35 WEB)