Silencing the Storms of Life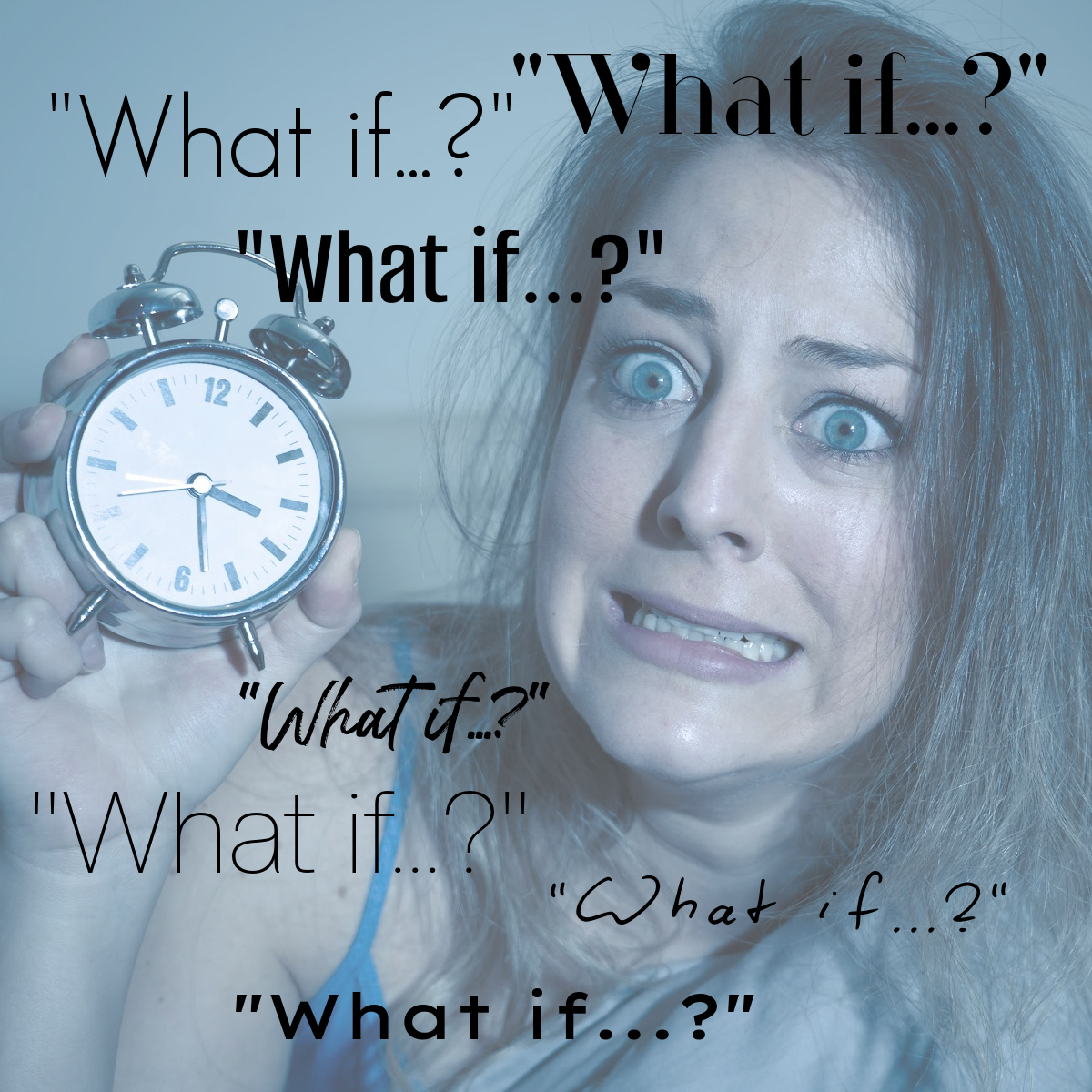 Sanctification is an ongoing revelation, and the Lord will lovingly reveal issues of misplaced trust if we invite Him. When the Lord reveals things like this to us, it's an invitation to spend time with Him as He exposes areas of darkness. These are precious opportunities for us to learn to think and respond differently to situations or circumstances. God desires us to walk free from all stress, anxiety, guilt, shame, fear, and condemnation.
Why am I thinking about this now? Perhaps it all started with a co-worker's recent absence. Work schedules and responsibilities shifted, interrupting sleep. Often, the culprit behind not sleeping well is a lack of peace. There was nothing specific, though occasionally, thoughts bubbled up: What if I didn't hear my alarm and wake up on time? What if I forgot something? What if I let people down? These silly "what if" questions were doubts rooted in fear, and we know fear is not from God.
For God hath not given us the spirit of fear; but of power, and of love, and of a sound mind. (2 Timothy 1:7 KJV)
It's human nature to make mistakes. This is a topic I discussed in books 1 and 2 of The Awakening Christian Series (You Can Hear the Voice of God Through All Your Spiritual Senses, and You Can Know the Heart of God for Your Life). Mistakes are not to be a source of shame; instead, they prove we're willing to try. Mistakes can be an essential step to learning something new. It's not the end of the world when we make mistakes. We're not that powerful! God has already factored in our occasional mistakes and loves us all the same.

Were the "what if" questions rooted in fear of man, fear of judgment, fear of rejection, fear of failure, or fear of success? These fears will keep us from growing. The thing to do is sit with the Lord and ask Him what's happening. Lord, what's the true root of these thoughts?

While many empathic, compassionate people experience struggles for themselves, others, territories, or nations, the Holy Spirit will help us differentiate between these sources and teach us how to pray. Perhaps God has placed a burden on your heart, as He has mine, to pray for the next generations. If so, you're already aware that many young people struggle with identity, purpose, and hope for the future.

As I was talking with the Lord this morning, I overheard, What if I get a C on my report card, and people find out I'm only average? What if I get a D, and they find out I don't understand what's being taught? What if I show up every day and still get an F? What if I have all A's and one A-? Why does the A- get all the attention?

This pressure comes from the cultures of this world, not from God or His Kingdom. What then shall we do about it? When we hear things like this, it's best to take these thoughts captive.
Casting down imaginations, and every high thing that exalteth itself against the knowledge of God, and bringing into captivity every thought to the obedience of Christ; (2 Corinthians 10:5 KJV)
So that we may boldly say, The Lord is my helper, and I will not fear what man shall do unto me. (Hebrews 13:6 KJV)
New opportunities and responsibilities can sometimes leave us feeling like we're in the midst of a storm. Why do we worry about anything when Jesus is with us? Yet, last night was another sleepless night. While summer months can be a time of rest and refreshing, they can also bring additional levels of stress for shifted expectations with extra responsibilities. I awoke thinking of how the disciples reacted in a similar situation.
Then he got in the boat, his disciples with him. The next thing they knew, they were in a severe storm. Waves were crashing into the boat—and he was sound asleep! They roused him, pleading, "Master, save us! We're going down!" Jesus reprimanded them. "Why are you such cowards, such faint-hearts?" Then he stood up and told the wind to be silent, the sea to quiet down: "Silence!" The sea became smooth as glass. (Matthew 8:23-26 MSG)
Let's learn from Jesus' example. Jesus was sound asleep. When His disciples awakened Him, He took care of the matter with a single word, and we can, too, by His example.
When peace and sleep elude us, we can ask the Lord how He would have us handle the matter. Speaking "Silence!" to the storm of thoughts in our head will restore instant peace.

Let's also remember that when we have a "bad" few minutes or hours in the day, it doesn't mean the whole day is ruined. A young mom recently commented that when she doesn't sleep well at night, she reminds herself that God's mercies are new every morning. She releases the need to declare, "I didn't sleep well last night, so I know I'm going to be tired all day." Instead, she thanks the Lord for the sun coming up and the strength to make it through the day. Lamentations 3:22-23, ESV tells us, "The steadfast love of the Lord never ceases; his mercies never come to an end; they are new every morning; great is your faithfulness."

Several other translations emphasize the Lord's compassions being new every morning rather than His mercies. "His compassions fail not. They are new every morning" (Lamentations 3:22-23, KJV). Using tools like BibleHub or BibleGateway, we can research scriptures from many translations or paraphrases. Slight differences in wording can help us have a better understanding of the scripture verses.
But this I recall and therefore have I hope and expectation: It is because of the Lord's mercy and loving-kindness that we are not consumed, because His [tender] compassions fail not. They are new every morning; great and abundant is Your stability and faithfulness. The Lord is my portion or share, says my living being (my inner self); therefore will I hope in Him and wait expectantly for Him. The Lord is good to those who wait hopefully and expectantly for Him, to those who seek Him [inquire of and for Him and require Him by right of necessity and on the authority of God's word]. It is good that one should hope in and wait quietly for the salvation (the safety and ease) of the Lord. (Lamentations 3:21-26 AMPC)
When the Lord directs us to a particular set of scriptures, we can invite Him to grant us wisdom and insight to understand the verses. We can also use Bible-study tools to help unlock meaning. Strong's Concordance is another of my favorite tools!
To hope is to wait in trust, but it's the LORD's compassions that fail not. Strong's Concordance says this about compassion:
Strong's H7356 - raḥam - רַחַם racham, rakh'-'m; from H7355; compassion (in the plural); by extension, the womb (as cherishing the fetus); by implication, a maiden:—bowels, compassion, damsel, tender love, (great, tender) mercy, pity, womb.
Compassion is an intimate love and protection likened to a mother's feelings toward the pre-born baby she carries in her womb. What a beautiful picture to meditate on! These distracting thoughts (worries, cares, and stress) that run through our heads some nights can be silenced and replaced. Often, the things we're stressing over are lies of the enemy. We're learning to ask, "What does God's Word say about this topic?" We exchange every lie for the truth of God's Word.

When wrong thoughts sidetrack us, we can invite the Lord to share His perspective on the matter instead. God's Word is our life's directions and Holy Spirit is the best teacher!
Therefore don't be anxious for tomorrow, for tomorrow will be anxious for itself. Each day's own evil is sufficient. (Matthew 6:34 WEB)
Peace I leave with you, my peace I give unto you: not as the world giveth, give I unto you. Let not your heart be troubled, neither let it be afraid. (John 14:27 KJV)
You will guard him and keep him in perfect and constant peace whose mind [both its inclination and its character] is stayed on You, because he commits himself to You, leans on You, and hopes confidently in You. So trust in the Lord (commit yourself to Him, lean on Him, hope confidently in Him) forever; for the Lord God is an everlasting Rock [the Rock of Ages]. (Isaiah 26:3-4 AMPC)
Then shalt thou walk in thy way safely, and thy foot shall not stumble. When thou liest down, thou shalt not be afraid: yea, thou shalt lie down, and thy sleep shall be sweet. (Proverbs 3:23-24 KJV)

Let's pray.

LORD God, we thank you for Your timely lessons. Thank You for not leaving us stranded. You have given us the keys to freedom. Lord, we speak to the storm of tormenting, lying, anxious thoughts and fears and command you to be silenced in Jesus' Name. We release all worries, cares, and stress. We release all anxiety, oppression, and hopelessness. In Jesus' Name, we declare a fresh anointing of peace, faith, hope, love, and joy poured out upon Your sons and daughters everywhere. Thank You, Jesus, for leaving Your peace with us and promising that our sleep will be sweet when we lie down. Lord, You are the Captain of our Salvation and the Host of Angel Armies. We trust You are watching over us. We trust You will guard and protect us as we sleep. Lord, forgive us for foolishly worrying about tomorrow. Our eyes and thoughts have been distracted. Teach us to keep our minds stayed on You and You alone. Thank You, Lord, for being the God of rest and restoration. Our bodies, minds, hearts, and souls are at perfect peace because we trust in You, our Everlasting God. Our rest declares Your Lordship in every area of life, and it's all for Your glory! Amen.