Fasting is a Set-apart Time of Feasting on God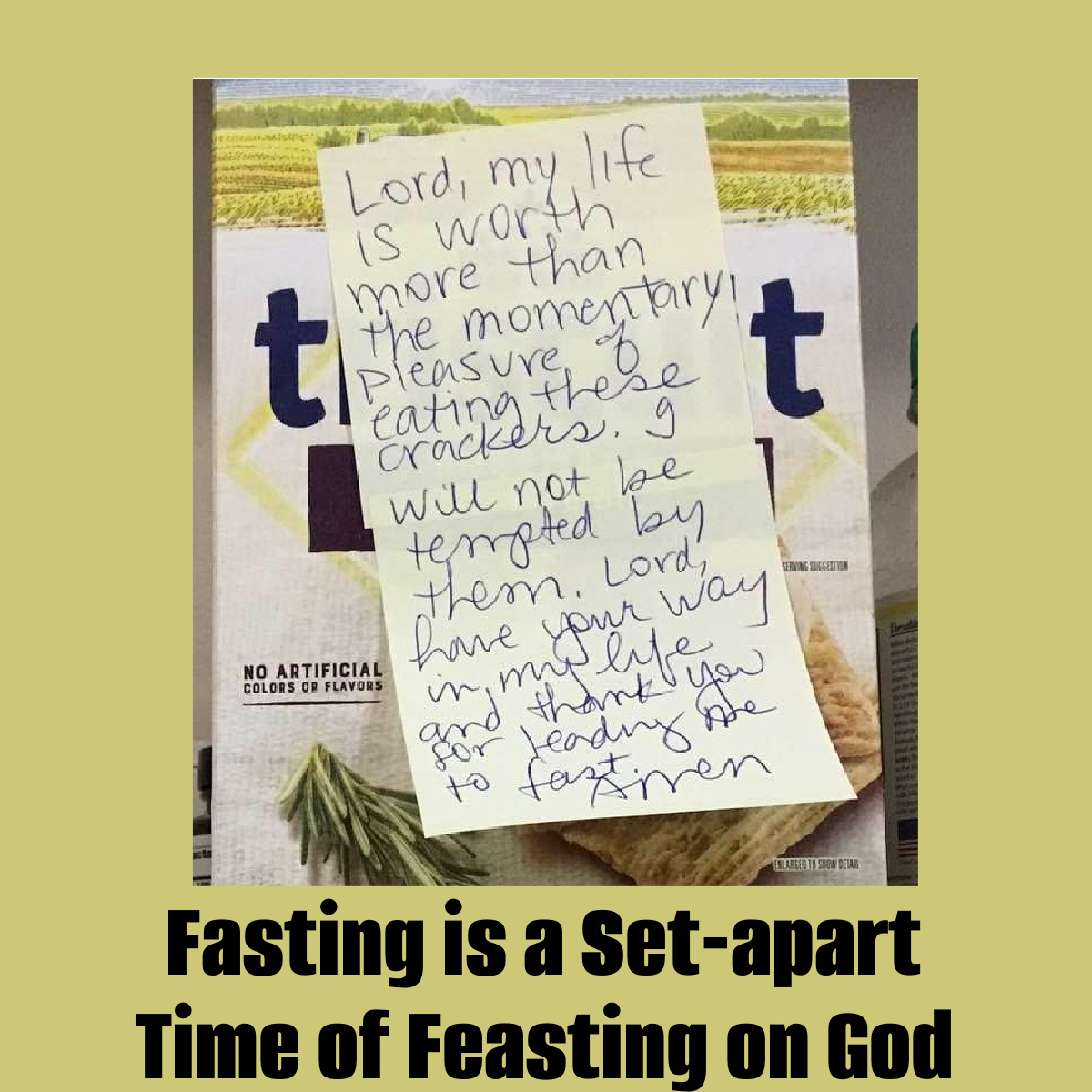 There is a grace to those who seek the Lord in prayer and fasting. Indeed, if you have ever attempted to fast in your own strength, you know it's nearly impossible.

I can't recount the number of times my morning declarations of "I'm going to fast today" were defeated shortly after walking into the kitchen. Voices of guilt, shame, and condemnation soon followed—none of which were from God. Subtle pride and routine habits cause us to do things in our own strength.

Instead, I learned to pray, "Lord, I purpose to fast today. Would You help me with this?" At other times, the Holy Spirit would invite me to fast in the sweetest way. As soon as my hand reached for the refrigerator handle in the morning, I might hear God say, "You're not hungry."

When the Lord starts the fast, and we agree with Him, there is a sure success. "Thank You, Lord. Let me know when it's okay for me to eat again." In this way, God enabled me to move forward with peace and strength for whatever length of time He required.

Allowing God to lead us through designated times of prayer and fasting transforms our hearts, builds intimacy with God, and instills grace for ministry. God's grace is sufficient for aiding us in overcoming our physical longing for food and replacing it with a spiritual hunger for intimacy with Christ.
"When you practice some appetite-denying discipline to better concentrate on God, don't make a production out of it. It might turn you into a small-time celebrity but it won't make you a saint. If you 'go into training' inwardly, act normal outwardly. Shampoo and comb your hair, brush your teeth, wash your face. God doesn't require attention-getting devices. He won't overlook what you are doing; he'll reward you well." (Matthew 6:16-18 MSG)

The Lord recently led me on my first 40-day fast. I stopped drinking caffeine all at once but had no headaches or withdrawals. Having been one who drank coffee in excess daily, I can only attribute this smooth transition to the supernatural power of God.

It surprised me to discover just how much of a distraction food had become. The first three days of the fast were the worst, but not because of hunger. Working from home, I soon realized how frequently I wandered into the kitchen for snacks. I had been eating out of habit, boredom, or comfort from stress. Sugary snack foods can give us a boost of endorphins, but it's followed by a crash.

Real food fuels our bodies with much-needed nutrients. God was inviting me to depend on Him as my Comforter. I soon found balance and easily redirected time not spent eating to feasting on God's Word, worship, or prayer.

Blessed be God, even the Father of our Lord Jesus Christ, the Father of mercies, and the God of all comfort; Who comforteth us in all our tribulation, that we may be able to comfort them which are in any trouble, by the comfort wherewith we ourselves are comforted of God. (2 Corinthians 1:3-4 KJV)

During this time of fasting, I found two books particularly helpful: Gretchen Rodriguez's "The Encounter: 40 Days of Fasting with Jesus" is a daily devotional featuring verses from The Passion Translation Bible. Her guide includes a daily prayer and "Steps for Transformation."
"Fasting" by Jentezen Franklin, is a classic quick-read, reminding us that our battle is with "King Stomach" and that fasting is not a Christian diet plan, even though we may lose weight during the process. I found his insights practical and Biblical. When we fast, we're not attempting to manipulate God, or vying to gain His favor. Rather, fasting is a matter of sacrifice and obedience, essential for keeping us humble in our walk of faith. Fasting is a time of separation where we invite the Lord to burn away all that has hindered our ability to trust in Him.
Does it matter how long we fast? I believe it's best to allow God to lead us through the process. He knows how long it will take to complete the inner work He's doing in our lives.
You might wonder if it matters if we get distracted, cheat, or fast perfectly? No. It's about our heart and desire to surrender to Him in trust and love, not perfection.

During times of transition, we need to hear the Lord's directions. God was still talking to me, but I needed more clarity. I knew God was prompting me to fast, but I didn't want to. Is it okay to admit that? I was turning to food during times of stress, so yes, I was walking in disobedience (which is sin). I had moved from depending on the Lord to relying on my own choices for comfort (and I chose food). What I couldn't see then is very clear now. Though the Lord loves us unconditionally, our defiance, resistance, and rebellion can place a distance between us. His invitation to fast drew me nearer to Him. He is "the repairer of the breach," after all.
And the Lord shall guide thee continually, and satisfy thy soul in drought, and make fat thy bones: and thou shalt be like a watered garden, and like a spring of water, whose waters fail not. And they that shall be of thee shall build the old waste places: thou shalt raise up the foundations of many generations; and thou shalt be called, The repairer of the breach, The restorer of paths to dwell in. (Isaiah 58:11-12 KJV)

I knew the Lord was calling me to join Him in a 40-day fast. The longest I fasted before this was about two weeks. I didn't immediately agree with the Lord, though I felt His gentle nudge and promptings. Still, after two other people spoke up and said, "I feel like the Lord is saying this is a time of fasting for you," I agreed to start the fast.

Once I agreed and aligned with God's will for my life, the ears of my heart opened to hear from Him with clarity. He restored dreams and visions. The Lord calls us to fast because He wants us to remember how wonderful it is to live in the beauty of His love. Fasting is a time of communion and takes place from a place of rest.

On the first day of my fast, He told me exactly why He had been calling me to fast. Understanding what was at stake helped to strengthen my resolve to continue.
About two weeks into this fast, I was amazed at how strong I felt, spiritually and physically.
Jesus said, "I am the Bread of Life. The person who aligns with me hungers no more and thirsts no more, ever. I have told you this explicitly because even though you have seen me in action, you don't really believe me. Every person the Father gives me eventually comes running to me. And once that person is with me, I hold on and don't let go. I came down from heaven not to follow my own agenda but to accomplish the will of the One who sent me. (John 6:35-38 MSG)

When I felt God leading me to co-labor with an outdoor ministry, adding protein powder to my water countered the challenging summer temperatures. Again, fasting is not about perfection; it's about focus. Was this a compromise? Was it a lack of trust in God's ability to keep my body strong? Adding protein powder to my water didn't change my focus or heart towards God. I don't believe it hindered the inner work He was accomplishing within my heart and soul.

I'm now more confident in God's love and care. The Lord will ensure I hear Him calling. I haven't missed His timing. I'm still transitioning, but I trust He is working everything out. My longing for God is more urgent than food, and the extra time spent with Him has been a beautiful investment sure to pay a good return.

Fasting is also a time of growing in gratitude towards God, and he awakens us to delight in Him. Our increased awareness of His continual presence makes all the difference. We grow in trusting Him to lead us, teaching us to pray and enabling us to love Him (and others) more fully.

If fasting is new to you, I encourage you to try it. Invite a friend to join you. Every fast starts with the sacrifice of a single meal and builds in duration. The grace for fasting for extended periods comes only from God.

Results of fasting and prayer may become known immediately or revealed gradually. Still, if you choose to fast, I'm confident you'll find greater peace and clarity as you draw closer to the Lord and learn to rest and abide in Him. Fasting is our testimony that we cherish the Lord's presence more than any other thing.

Grace and peace be yours in abundance!