What have I lost, and what am I seeking?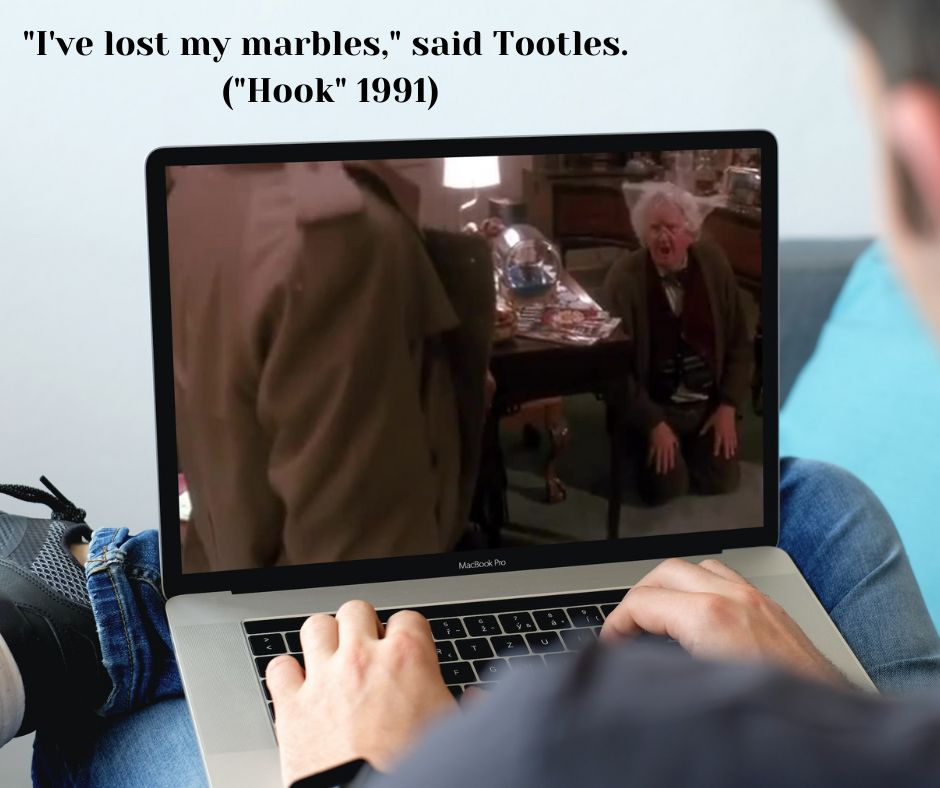 Earlier today, when a friend texted, "Monday morning check-in," she sweetly held me accountable for a weight-loss goal. In the past several months, unless the scale and my pants are lying, I've achieved the opposite of that goal.
I've felt more like Eric Carle's "Hungry, Hungry Caterpillar" and wondering when all this will stop. What's the deal? Superficially, it's a lack of tracking and addiction to sugar. I'm long past the age of being able to eat anything I want.
I was thinking about these things (and how I might respond to my friend) while I started the first load of laundry. After setting up the coffeepot to do its job, I jumped into the shower. The shower is a great place to hear from God and rounds out the top five sites people tell me they hear from God. Other places people tend to most often hear from God are while dreaming, being outdoors, reading the Bible, or journaling.
While in the shower, I saw a fleeting image of a friend, followed by a movie clip. I could see my friend in a bedroom searching for something. She lifted the mattress, glanced around at the shoes on the floor, then walked to a corner of the room to move a walking stick and a baseball bat. Whatever she was searching for couldn't be found.
It was like that scene from "Hook," where Tootles searches for his marbles. Tootles, one of the original Lost Boys, was now an older man living in London, and everyone thought he was crazy. While they all agreed he had "lost his marbles," they didn't understand Tootles had lost them literally. These prized marbles represented "happy thoughts" of his days with peter Pan.
Well, that's how my morning started, so here I am typing things out. Is any of this "usual"? No. It's a gift when God speaks to us in these unique ways, and when we are good stewards of what He entrusts to us, He gives more. To steward these encounters, I write them in my journal, use my phone's talk-to-text feature to send myself an email, or type it out on the computer as soon as possible. Then, I spend time with God, asking for clarification.
My favorite reference for name meanings is Dorothy Astoria's "The Name Book." In this book, Astoria lists the name's origins and the implied spiritual connotations of a name, along with a relevant scripture verse. Regardless of well-intentioned opinions of people, books, or websites, allow God to have the final say. He is our definitive source. Here, the scripture reference was spot-on for dealing with the current issue in my life. According to Astoria, my friend's name means "Peaceful." The scripture referenced is from Hebrews 12:11 from the Revised Standard Version.
For the moment all discipline seems painful rather than pleasant; later it yields the peaceful fruit of righteousness to those who have been trained by it.

(Hebrews 12:11 RSV)
Three days of fasting will break the sugar cravings, but I know there is more to it than that. Last year, I successfully released 18 pounds, and now I have regained them. It's not a cycle I want to continue, so I need to sit with the Lord, inviting Him to help me see the real root of what's going on. I must document what I eat, when, and why to track patterns. Doing so will help me budget my calories better and correct areas of "overspending." To me, losing, maintaining, or gaining weight is likened to reconciling a bank statement. Excess weight is an overdraft caused by eating beyond my daily spending limit. For most people, maintaining health requires discipline, and disciple is not pleasant.
Did you catch the other thing God was saying? Tootles losing his marbles reminded me of the parable of the lost coin found in Luke 15.
"Or what woman, if she had ten drachma
coins, if she lost one drachma coin, wouldn't light a lamp, sweep the house, and seek diligently until she found it?
When she has found it, she calls together her friends and neighbors, saying, 'Rejoice with me, for I have found the drachma which I had lost.'
Even so, I tell you, there is joy in the presence of the angels of God over one sinner repenting." (Luke 15:8-10 WEB)
I believe we have entered, collectively as the Body of Christ, into a time of consecration and repentance. We have forgotten who we are and misplaced our identity. Our "happy thoughts" are not tied to marbles from the days of our youth. We can have peace now. In John 14:27, Jesus, our Prince of Peace, says He gives us His peace and leaves us with peace. If I don't feel at peace about something, what does that say?
This week, I've been working on identity scriptures and declarations. God reminds me again that my identity is not in a role, title, position, or accomplishment. Neither is it dependent on how much I weigh, how many FB "friends" I have, what kind of car I drive, what type of house I live in, or what kind of shoes I wear. All of these things are superficial. My identity is secure as a beloved child of the Most High God. God says He loves me, and if I need to hear that one thousand times a day, that's how many times He'll continue to tell me. I want God to have access to every hidden part of my heart and soul because I need His love to permeate every aspect of my life.
But if anyone builds on the foundation with gold, silver, costly stones, wood, hay, or stubble,

each man's work will be revealed. For the Day will declare it, because it is revealed in fire; and the fire itself will test what sort of work each man's work is. (1 Corinthians 3:12-13 WEB)
Because you say, 'I am rich, and have gotten riches, and have need of nothing;' and don't know that you are the wretched one, miserable, poor, blind, and naked;
I counsel you to buy from me gold refined by fire, that you may become rich; and white garments, that you may clothe yourself, and that the shame of your nakedness may not be revealed; and eye salve to anoint your eyes, that you may see. (Revelation 3:17-18 WEB)
In this verse, the emphasis is on God. We're not to trust in our efforts, accomplishments, titles, or possessions. We're not to do things like the world. Just because a method or practice works for someone else doesn't mean it will work the same for us. Many well-intentioned people will think we have "lost our marbles" when we refuse to do things in the usual worldly ways. Yet, are we following men or God? What are our heart's motives? Why do we do what we do or say what we say?
When God asks to build something, He will provide its blueprints. We can still trust God's plan when He asks us to walk away from that thing. King David wanted to build the LORD's temple and gathered the materials to do so. Still, in 1 Chronicles 28, God tells David that Solomon will build the temple. Rather than throwing a hissy fit and demanding justice, David trusted God with this new direction. Occasionally, the Lord will ask us to pivot- to stop moving in a particular direction, go in a new way, or do something altogether different. We must be humble and mature enough to trust Him in all things. If we're not trusting God, who are we trusting? What have I lost, and what am I seeking? My own way? A replacement? What am I hoping to find?
So, as usual, I currently have more questions than answers, but that's okay. I love these ongoing conversations with God and am eager to learn more from Him.
Father God, we praise Your Holy Name. Thank You, Jesus, for shalom shalom, wholeness in every area of life. Thank You, Lord, for Your loving corrections, re-directions, and guidance. Holy Spirit, You are the best Teacher, Counselor, and Comforter. Lord, You are a Champion at finding lost things! Restore us back to You. Please help us to focus. We need Your help. We are lost without You. You are faithful and just. Lord, continue to speak to us on this critical topic. We want to know You more. It's in Jesus' Name we pray. Amen.

PS In the end, Tootles finds what he was looking for.