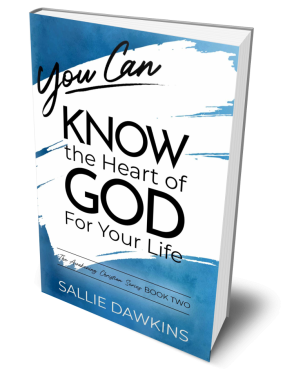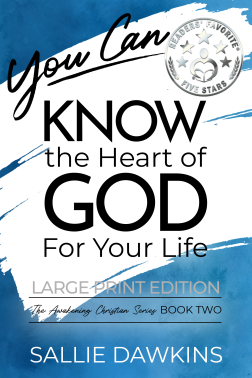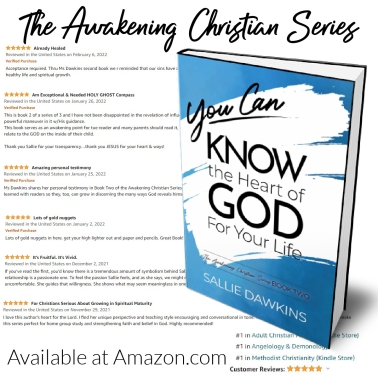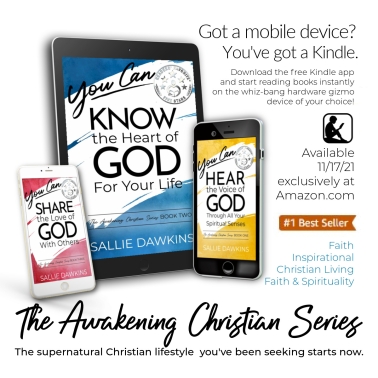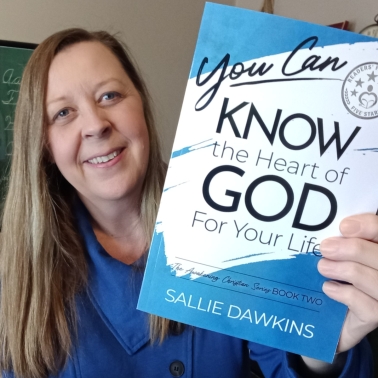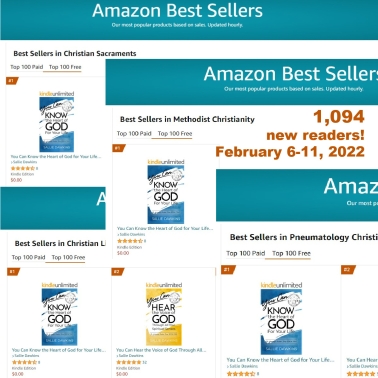 You Can Know the Heart of God For Your Life
The Awakening Christian Series
2
By Sallie Dawkins
Published by , Firebrand United, LLC
Is it possible to know God's heart?
A heart encounter with God in 2015 challenged Sallie's entire belief system. It was the beginning of the end of two-and-a-half decades of wavering faith and started her on a supernatural journey of discovery that rapidly transformed her life.
Now an ordained Christian Healing Evangelist, Sallie Dawkins is an expert at coaching born-again Christians in spiritual growth. When she realized others were asking the same questions she once asked, she was inspired to write The Awakening Christian Series. This series is for Christians seeking a closer relationship with God. In book two, You Can Know the Heart of God For Your Life, the author shares with heartwarming honesty the lessons she's learned in her pursuit of knowing God's heart for her life.
This book will help you to:
• Seek God's will and view circumstances from Heaven's perspective
• Align with Jesus as the true Head of the Body to speak words of life and truth
• Unlock the soul-healing power of communion
• Restore peace to every area of life and allow that peace to shift atmospheres
• Grow in and benefit from the supernatural gift of discerning of spirits
Teaching through testimony, the author uses Bible verses to illustrate her points and answers FAQs regarding the supernatural. The lessons Sallie shares about her journey of spiritual growth can benefit every born-again Christian. You'll find valuable resources and application questions at the end of each chapter to help you achieve victory in your spiritual walk. Sallie will show you how God brought healing to her own life, and how He can do it for you, too!
You'll find this book inspiring, empowering, and encouraging as you build upon basic spiritual concepts for overcoming challenges and creating the supernatural life you desire. Applying the fundamental truths presented in this book will help you experience God in fresh ways and gain confident faith of God's continual presence.
This book is a must-read for born-again Christians who desire to grow in spiritual maturity and the gifts of the Spirit to live a happy, purposeful life in Christ. The supernatural Christian lifestyle you've been seeking starts now.

EDITORIAL REVIEWS
I loved that the author speaks from experience and anecdotes of her encounters are included. Most important is the book's emphasis that such a life is accessible to anyone who wants to walk and build a close relationship with God. - Edith W. for Readers' Favorite Book Review

You Can Know the Heart of God For Your Life by Sallie Dawkins is an excellent resource for new and experienced Christians alike. I appreciate how the author guides the reader through what seems to be the most basic Christian practices in a way that builds confidence and ease. - Susan S. for Readers' Favorite Book Review
eBook, pb, hd, lp | 221 pages | 6x9 | 978-1955861021 | November 28, 2021